Canadian Cap & Gown Quotes & Samples - GradCanada
What's Included In Your Free Planning Kit?
Cap & Gown Package w/Tassel based on your color/Material Selection
Multi-Colored Fabric Swatches (Matte, Shiny, Eco)
Sample of our "Diploma of Graduation" Diploma
Diploma Color Material Swatches (5 Colors)
Graduation Stole (Upon Request)
Product Catalog & Order Forms (Based on School Level)
You Also Receive a Free Graduation E-Book
Cap, Gown & Tassel
A sample Cap, Gown & Tassel is included as a key component of this planning kit. This set is being sent to give you an opportunity to review overall look and fit before placing an order.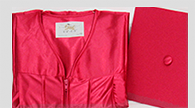 Color Swatches
Get a much better idea of our color and fabric offering to ensure you're getting exactly what you want when your order arrives.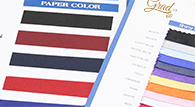 Planning & Ordering
Our order forms are very comprehensive and will assist in guiding you through the ordering process. These forms help to ensure your order arrives on time and based on your specifications.
Request Your
Planning Kit